A small electric motor can improve efficiency
The new Tourneo Custom is available as an EcoBlue Hybrid. This technology helps to reduce fuel consumption and lower emissions, with a small battery-powered electric motor providing extra support to the combustion engine when needed. Kinetic energy and regenerative braking recharges the 48-volt hybrid battery while you drive.
Cutting-edge technologies for your ease and comfort
New Tourneo Custom is available with an impressive list of smart, driver assist features including a Blind Spot Information System that sees the vehicles you might miss. Intelligent Speed Assist uses the Traffic Sign Recognition camera to first detect the current speed limit (when activated) then helps to keep you inside that limit.
Cross Traffic Alert warns you if it detects oncoming traffic when you're reversing out of a space. And Adaptive Cruise Control is designed to help you maintain a pre-set distance from the vehicle in front, automatically.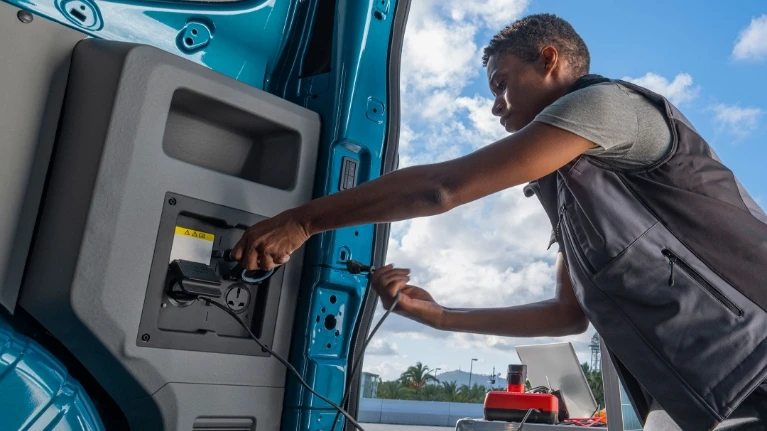 Sit back, relax and enjoy the ride
With Tourneo Custom, you'll enjoy an exceptional on-board experience wherever you sit. Flexible rear seats offer many possible seat/luggage configurations. And if you choose the L2 long wheelbase version, you'll get even more luggage space. New, reversible 2nd row seats enable you to easily create a conference style seating arrangement. And depending on which model you choose, you'll enjoy three separate seats on the 3rd row and/or individual seating on the 2nd row. As for comfort and convenience, premium fabrics and trims, more stowage options and carlike levels of craftsmanship ensure satisfying journeys for driver and passengers alike.
A system that can help protect pedestrians
Pre-Collision Assist detects slower vehicles in the road ahead, or pedestrians and vehicles that could cross your path, and warns you of their presence. If you don't respond, the system automatically applies the brakes. This technology is designed to help reduce the severity of accidents, or help avoid them altogether, and functions effectively at speeds of up to 50 mph / 80 km/h (assuming normal road and vehicle conditions).
Tourneo Custom Titanium
recommended retail price from €51,743