Make light work of heavy traffic
Intelligent Adaptive Cruise Control with Stop and Go lets you set both your cruising speed, and distance from the vehicle in front. If it detects traffic is slowing, the system will maintain your pre-set distance if conditions don't allow for your preferred cruising speed. It can even bring you to a complete stop in heavy traffic. Once the road in front is clear, the system automatically accelerates back up to your chosen speed – making it ideal for negotiating the crowded stop-start driving of urban environments.
The key to a more connected world
For the first time, the New Galaxy is available with a FordPass Connect modem. The system provides a range of invaluable benefits, including up to 4G WiFi for up to ten devices, and real-time traffic updates delivered straight to your in-car navigation system. When combined with the FordPass app on your phone, you'll be able to check if you remembered to lock the doors, and then lock or unlock them remotely. You can even see your van's location on a map, so you don't have to worry about forgetting where you parked when in unfamiliar locations.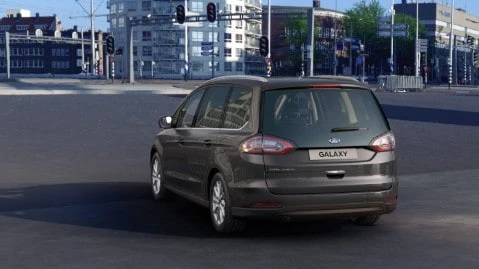 A system that can help protect pedestrians
Pre-Collision Assist detects vehicles and pedestrians in the road ahead, or who could cross the vehicle's path, and warns you of their presence. If you don't respond, the system automatically applies the brakes. This technology is designed to help reduce the severity of accidents, or help avoid them altogether, and functions at speeds of up to 80 km/h.
Galaxy Titanium
recommended retail price from €40,403